Artisan Map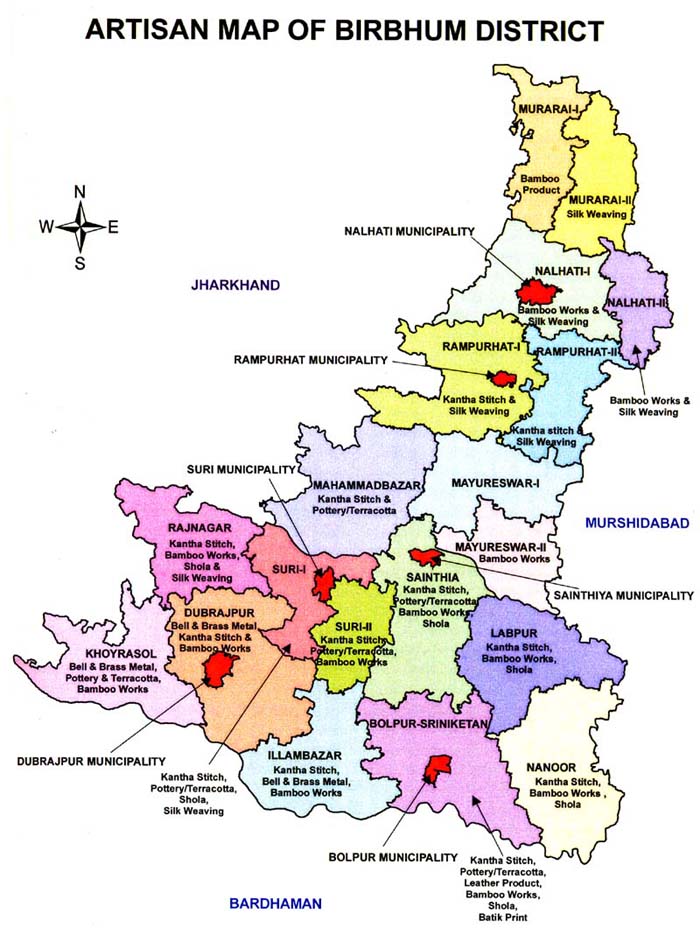 Background
This district is triangular in shape. River Ajay forms the southern base whereas the apex of the triangle points to the north. The river forms the boundary between the districts of Birbhum and Bardhaman. The state of Jharkhand is located at the northern and the western border of Birbhum and Murshidabad is located at the east. Geographically, this area lies at the north-eastern end of the Chota Nagpur Plateau, as it slopes down and merges with the alluvial plains of the Ganges.
The western portion of the district is historically known as Vajjabhumi or Bajrabhumi. It is an undulating upland that is generally barren. The comparatively more fertile eastern portion, constituting the northeastern Rarh region, merges with the Gangetic plain. Vajjabhumi is also included in the Rarh region, and rest of Rarh is called Sumha to differentiate it from Vajjabhumi
Rarh was part of the territory ruled over by the MAURAYAN Emperors, and was subsequently included in the empire of the imperial GUPTAS, of SHASANKAS and of HARSHAVARDHANA. After dismemberment of Marsha's Empire , it was included in the PALA kingdom and formed a part of it until middle of 12th Century A.D. when the overlordship passes to the SENA kings.
In the 13th Century A.D. the district passed under the rule of the SULTANATE KINGDOM / MUGHALS, and according to some authorities, Lakhanor ( or Lakhnur), an important frontier post of SULTANATE KINGDOM / MUGHALS territory, lay within its limits. After this, for many centuries the controls of the Sultanate Kingdom / Mughals over the Western part of the district appears to have been merely nominal, and the country was left under the rule of Hindu chiefs, called "BIR" Rajas.
Basic Information
1.

Area

4,545 sq km 

 
 
 
 
 

2.

Population

3,502,387

(Male 17,91,017; Female 17,11,370)

3.

Literacy Rate

61.48%

(Male 70.89%, Female 51.55%)

4.

No of Sub Division

3

5.

No of Blocks

19

6.

Address Of District Office

Barabagan, Suri,
P.O. & District Birbhum
PIN-731103.

Telephone No:. 03462 255676

7.

District Setup of KVIB

Started In 1986
Performance
1.Pre-C.B.C. Programme
a.No. of unit 2768
b.Ammount Financed Rs. 91.26 lakhs
c.No. of Employment 4219
2.C.B.C. Programme
a. No. of unit. 332
b. Project Cost Rs. 61.58 lakhs.
c. No. Employment- 747
3.R.E.G.P. (1998-99 tO 2007-08)
a. No. of Unit. 1083
b. Total Investment Rs. 3174.43 Lakhs
c. No. of Employment 11111
4.P.M.E.G.P.(2008-09 tO 2010-11)
a. No. of unit. 455 No.
b. Total Investment Rs. 1346.16 Lakhs.
c. No. of Employment 4636
Khadi Institution
| | | | | | |
| --- | --- | --- | --- | --- | --- |
| Sl. No. | Name | Address | Contact Number | Category | Product |
| 1. | Pally Khadi Unnayan Kendra | D.B.Road, Rampurhat | 03461-255029 | A | Silk |
| 2. | Margram Khadi Seva Mondal | P.O.- Margram | 9732307127 | A | Cotton & Silk |
| 3. | Tantipara Anchal Khadi & Gramodyog Sangha | Vill. & P.O.-Tantipara | 03462-274216 | A | Silk |
| 4. | Gandhi Smriti Sanstha | Vill. & P.O.-Baswa | 03461-252224 | A | Silk |
| 5. | Tantipara Tassor Resham silpi Samabaya Samity Ltd | Vill. & P.O-Tantipara | 03462-274251 | A | Silk |
| 6. | Rampurhat Mahakuma Khadi Shilpa Unnayan Samity | Vill. & P.O.-Baswa | 9434556379 | A | Silk |
| 7. | Baswa Resham Khadi Kutir | Vill.& P.O.-Baswa | 03461-252205 | B | Silk |
| 8. | Baswa Resham Shilpi Samabaya Sangha Ltd | Vill.& P.O.-Baswa | 03461-252246 | B | Silk |
| 9. | Bishnupur AnnapurnaKhadi "O" Gramodyog Samity | Vill. & P.O.-Baswa | 9434062421 | B | Silk |
| 10. | Birbhum Tassor Resham Khadi Shilpa Sanstha | Vill. P.O.-Tantipara | 03462-274217 | B | Silk |
| 11. | Joytara Resham Khadi Gramodyog Samity | Vill.+ P.O.-Baswa | 9932863842 | B | Silk |
| 12. | Margram Panchayet Silk Khadi Vandar | P.O.-Margram | 9434220788 | B | Cotton Silk |
| 13. | Panchgachia Resham Tantubay Samabay Samity Ltd. | P.O.-Baliya Palsa,Vill.-Panchgachia | 8768525294 | B | Silk |
| 14. | Zilla khadi Gramodyog Sangha | Vill. & P.O.-Rajnagar | 03462-274310 | B | Silk |
| 15. | Dwarka Tantipara Khadi Sanstha | P.O.-Dwaraka | 03481-236591 | B | Cotton, Silk |
| 16. | Baswa Resham Khadi Gramodyog Samity | Vill.+ P.O.-Baswa | 03461-252268 | C | Silk |
| 17. | Baswa Resham Khadi Gramodyog Sangha | Vill.+ P.O.-Baswa | 9933873201 | C | Silk |
| 18. | Birbhum Khadi & Gram Unnayan Kendra | Vill.& P.O.-Baswa | 9932437940 | C | Silk |
| 19. | Budhigram Anchal Resham Khadi Silpa Sanstha | P.O.-Bhudhigram | 03484-279116 | C | Cotton,Silk |
| 20. | Gaganpur Resham Silpi Tantubay Samabay Samity Ltd | P.O.- Gaganpur | 03465-236536 | C | Silk |
| 21. | Gramin Resham Khadi Samity | Vill.& P.O.-Paikar | 9434514267 | C | Silk |
| 22. | Khedapara Pallysree Khadi Kendra | P.O.-Margram | 03461-265321 | C | Silk |
| 22. | Magram Silk Khadi Unnayan Samity | Vill.& P.O.-Margram | 03481-236596 | C | Silk |
| 24. | Naba Bharat Resham Khadi "O" Gram Unnayan Sangha | Vill.-P.O.-Bishnupur | 9933666135 | C | Silk |
| 25. | Paschim Banga Gramounnayan Mondal | Margram More, Rajib Pally,P.o.-Rampurhat |   | C | Silk |
| 26. | Pragati Sangha Khadi "O" Gramodyog Kendra |   |   | C | Silk |
| 27. | Radha Madhab Khadi Kutir,Vill.-Khedapara | P.O.-Margram | 9832949469 | C | Cotton, Silk |
| 28. | Resham Khadi  Bhandar Desh Bandhu Road | P.O.-Rampurhat | 9732978819 | C | Cotton, Silk |
| 29. | Iswarpur Sarbamangala Khadi Shilpa Samity | Vill. & P.O.-Iswarpur | 9474738463 | C | Cotton, Silk |
| 30. | Birbhum Mahila Muslin Khadi Katai Mondal | P.O.-Baswa | 9733050650 | C | Cotton, Silk |
| 31. | Ahmadpur Silk Khadi Silpa Samity | P.O.- Ahamadpur | 03462-274278 | C | Cotton, Silk |
| 32. | Tantipara Sonarpara Pragoti Khadi & Gram Silpa Unnayan Sanstha | Vill. & P.O.-Tantipara | 8926199390 | C | Cotton, Silk |