MDA/MMDA 
The MDA (Marketing Development Assistance) scheme has been introduced in place of long existing Rebate scheme as an assistance to Artisans and Khadi Institutions.
Quantum
i) Artisans- 50% of settled amount.
ii) Institution- 50% of settled amount.
MDA is calculated on COST OF PROD. value but since 2017-18 a new scheme namely MMDA (Modified Marketing Development Assistance) has been introduced in place of MDA scheme on the strength of approval accorded by MSME&T Deptt. of W.B. vide memo no. 169/MSMET(v)/2k-09/15 dtd. 18.01.18.
MMDA is calculated on PRIME COST of Prod. value.
State Govt. share of MDA & MMDA are @ Rs. 10% & 15% respectively. All the Khadi producing Institutions having valid certificate are entitled to avail such benefit under this scheme.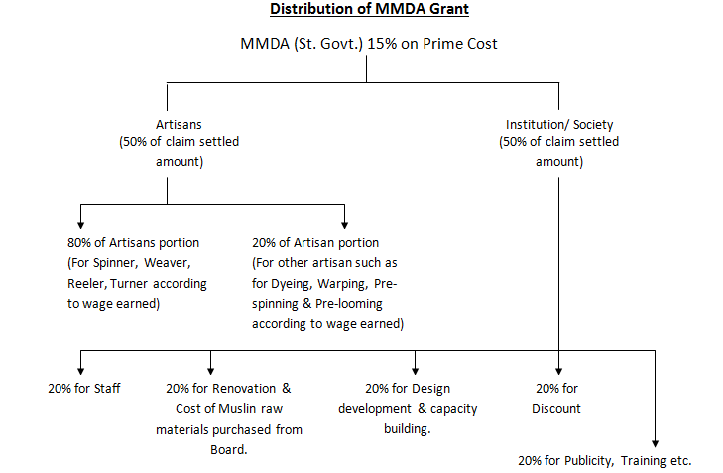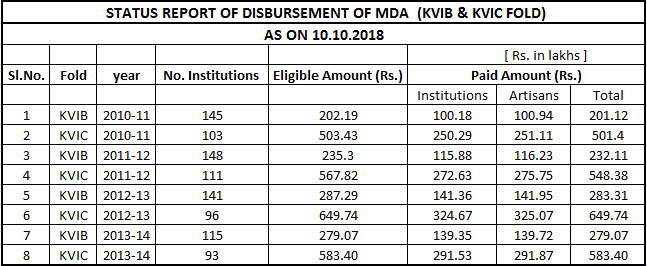 THE MODIFIED MARKET DEVELOPMENT ASSISTANCE (MMDA) ON PRODUCTION SCHEME TO BE IMPLEMENTED WITH EFFECT FROM 01.04.2017 UNDER THE PURVIEW OF WEST BENGAL KHADI & VILLAGE INDUSTRIES BOARD.

BACKGROUND:
Khadi is handspun and hand woven cloth made by around a million traditional rural artisans. Handspun and hand woven characteristic is the Unique Selling Proposition of Khadi. Govt. of India has been providing MMDA @ 30% on the prime cost of production of Khadi in order to facilitate the product to compete with other textile product in the market.
Implementation of Modified Marketing Development Assistance (MMDA) scheme for Khadi & Polyvastra w.e.f 01/04/2017 in place of earlier MDA approved by MSSE & T Department, Govt. of West Bengal under the purview of WBKVIB.
MSSE & Department, Govt. of W.B with the concurrence of Finance (Audit) Department, Govt. of W.B has accorded approval for the introduction of Modified Market Development Assistance (MMDA) scheme with effect from 1-04-2017 in lieu of existing MDA by West Bengal Khadi & Village Industries Board in this State as per Govt. of India's Circular No. DK/KC/Khadi/MPDA/Guidelines/16-17 dated. 26-12-2016 and guidelines laid down therwith issued by Directorate of Khadi Coordination, Khadi & Village Industries Commission subject to compliance of formalities laid down of the aforesaid Circular No. DKC/MDA-Policy/2010-11 dtd 16-04-10 of Govt. of India.
And the State Government accorded approval Vide No. 169-MSMET (V)/2K-09/15 dtd. 18-01-2018.
On the strength of the above noted order the WBKVIB has now decided to formulate and issue the brief Guidelines for giving immediate effect for introduction of Modified Market Development Assistance (MMDA) scheme on behalf of the MSME & T Department, Govt. of W.B w.e.f 01-04-2017.
The scheme has been effective from 1st April, 2017. The scheme will help Khadi Sector to reorient their activities extending adequate emphasis towards increasing artisans' earnings as well as ensuring quality of Khadi to customers.
After introduction of MMDA from the end of KVIC, Govt. of India, the proposal for providing matching MMDA in the line of erstwhile MDA scheme to the certified Khadi Institutions/Societies in our state out of State Plan Resources and thereafter, the State Govt. has also decided to accept the proposal of the Board for Introduction of MMDA Scheme @ 15% on Prime Cost of production out of State Plan Resources.
The brief Guidelines in respect of above are now enunciate below for information and compliance for Certified Khadi Institutions/Societies, Offices of WBKVIB and KVIC in the State of West Bengal and others concerned.
Brief Guidelines for implementation of MMDA (State Govt. share)
1. The existing MDA scheme has been modified and termed as MMDA (Modified Marketing Development assistance). The newly scheme is effective from 2017-18 (01.04.2017).
2. The Modified MDA (State Govt. share) shall be calculated @ Rs. 15% on PRIME COST. The Prime Cost includes cost of raw material plus conversion changes up to grey cloth plus processing charges without margins (Establishment Expenditure, Trading, Insurance & Bank Interest)
3. All the Khadi Institutions/ Societies have to submit their claims in the form of MMDA instead of MDA as per existing proforma.
4. Under MMDA scheme the artisans engaged in the pre processing activities of Spinning & Weaving, Dyeing & Warping shall also be considered as the stakeholders along with Spinners, Weavers, Reelers and Turners.
5. The staff of Khadi Institutions involved in either in Production or Sale shall be considered as stakeholder of such MMDA.
6. Khadi Institutions/Societies undertaking production as well as sales activities shall be entitled for 50% of MMDA on Prime Cost and the remaining 50% shall be distributed among the spinners, weavers, reelers, turners and other respective artisans.
7. The Khadi Institutions/Societies should submit their claims of MMDA yearly to the respective District Offices of the Board.
8. Settlement of Claim:
All the claims as received will be examined and audited time to time by the entrusted officials of the Board and on the strength of desired recommendations from concerned District Officer the verified claim bills/reports shall be considered for payment subject to availability of fund from State Govt.
9. Furnishing of Utilization Certificate:
The Khadi institutions/societies availing MMDA will be bound to furnish utilization certificate within 1 month from the date of receipt of MMDA grant.
10. Utilization of MMDA for certain purpose, such as renovation, modernisation etc. may take a period more than one year. In such cases the Societies/Institutions will be allowed to spent MMDA portion up to 2 years.
The Khadi Institutions/Societies must submit their claims along with following documents:
1) Claim Bill in duplicate (as per proforma)
2) Copy of SFC approved target.
3) Copy of Certificate from the Registrar of society regarding Members of respective Managing Committee.
4) Copy of resolution regarding MMDA claim.
All the payments by the Khadi Institution/Societies out of MMDA must be through Aadhar linked bank (RTGS/NEFT) a/c to its stakeholders.
Components of MMDA:

COST OF RAW MATERIAL
+
SPINNING/REELING AND WEAVING CHARGES INCLUDING PROCESS WASTAGE, ARTISANS INCENTIVE AND ARTISANS WELFARE FUND ETC.
+
WET PROCESSING i.e BLEACHING, DYEING, MERCERIZING AND PRINTING CHARGES ALONG WITH PROCESS WASTE.
[PRIME COST]

Compliance of all the above points will be ensured by WBKVIB while settling the MMDA claim of each Institution/Society.
Definition of MMDA: MMDA on Production is an assistance proposed to be provided on Prime Cost of Khadi and polyvastra achieved by the certified Khadi institutions. The Khadi institutions, having valid Khadi certificate and categorized are only eligible to avail MMDA grant from WBKVIB/State Govt.
Rate Of MMDA: MMDA shall be allowed @ 15% 'on Prime Cost (Cotton including Muslin Khadi, Silk, Woollen) and polyvastra to the extent of production target approved by the Standing Finance Committee (SFC) of KVIC for a particular Financial Year.
Producing Institution for the purpose of MMDA will mean the institution engaged in the activity of production of Khadi.
Selling Institution or sales outlets including departmentally run units of KVIC and KVIB for the purpose of MMDA will mean the institutions engaged in the activity of selling of Khadi purchased from producing institution.
Composite Institutions will mean the institutions engaged in the activity of producing and selling of Khadi.

Test Check/Test Audit and Monitoring of MMDA on Production:
1. WBKVIB shall conduct test audit/check of MMDA claims through its own officials in respect of all the institutions availing MMDA. The WBKVIB will reserve its right for such test audit/check and in case of any mis-utilization, it may order for complete audit of accounts of the Khadi institution. The MMDA claims will also be opened for 'internal audit' by the A.G., West Bengal.
2. As the funds for MMDA would be extended from Public fund, the Office of Auditor General of WB will have the right of conducting audit/test check or otherwise as decided by that office.
Dispute settlement in transfer of MMDA:
1. In case of non transfer or improper transfer of MMDA by the producing institutions to other stake holders especially the Artisans, the Stake Holders should bring such transactions immediately (Within one month of transaction) to the notice of the H.O through its District Office who will direct the producing Institutions to the eligible portion of MMDA forthwith. If any Khadi producing institution is not complying with the norms as laid down in the circular the CEO, WBKVIB will reserved the right to deduct the amount from the claim of the khadi producing institutions and remit the same to the Stake Holders i.e Artisans/Institutions as the case may be.
2. The Chief Executive Officer, WBKVIB shall be the appellate authority for all disputes and all Khadi Institutions will be bound by his decision.