Artisan Map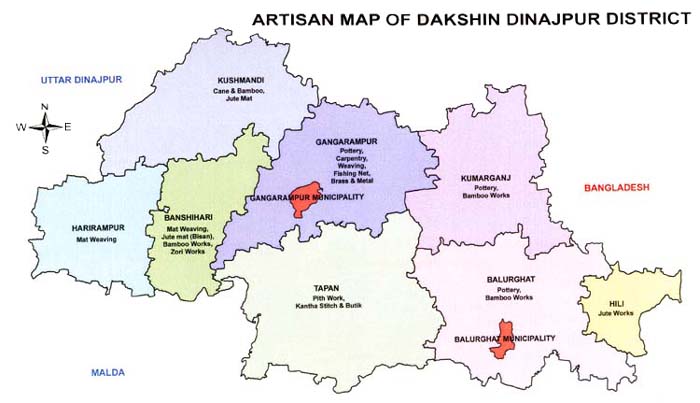 Background
Dakhsin Dinajpur is a famous district of West Bengal about its history, heritage ar.z culture. Hili it's must important border, which is also important for West Bengal also. 
Previously this district was named West Dinajpur came into existence in 1947 with the partition of India. It is again bifurcated in two districts in 1992 namely Uttar Dinajpur and Dakshin Dinajpur. Dakshin Dinajpur comprises an area about 2166 sq. km., which in ancient times formed a part of the Kingdom of Pundra Vardhana, the country of Pundras. The districts of Dakshin Dinajpur has many reasons to be proud of its rich historical and culture heritage.
According to Brihath Katha Kosh the famous Jain Guru of the Maurya Emperor Chandra Gupta who sen of Brahmin of Devkota in Pundra Bardhan. The eastern portion of Dinajpur v Known as Panchagari and Devkot was the capital, the ruins or which are still found is and around Bangarh in Gangarampur PS. In the centre or Bangarh is a large heap of bricks said to have been the place of Raja Bana.
Beside Bangarh at Gangarampur, historical remounts of Harirampur; famous Kardaha Shiv Temple, Botun (Kumarganj Block), the famous birthplace of Poet Sandhyakar Nandy, Ekdala Fort, various 6th, 7th, 8th, 9th, 10th, 11th century Maurya, Gupta, Pal, Sen, §jiltan Dynasty remnants throughout the district are the main attraction.
Dakshin Dinajpur is rich in folk culture. 'Khan' song is the most unique folk form mainly belonging to the Scheduled Cast and Scheduled Tribe communities. Beside 'Khan', the other other notable folk cultural forms of the district are 'Natua', 'Jang Gan', 'Mokha Dance' (Mask dance), 'Halna - Halnani', 'Bislihara', "Satpir' (Satyapir gan), 'Jalmanga Gan\ "Khaja Gan', 'ChorChunni'.
In this district various tourist interest places like Sarengbari Forest (Hili Block), Interntional Border Hili, Dogachi Forest area, Balurghat College Museum, Dakshin Dinajpur Museum at Balurghat etc.
This district has a vast potentiality in eco-tourism, Village-tourism and in history-heritage tourism which can change the Socio-ecomomic scenario of Dakshin Dinajpur.
Basic Information
1.

Area

2219 sq km 

 
 
 
 
 

2.

Population

1,670,931

(Male 8,55,104; Female 8,15,827)

3.

Literacy Rate

63.59%

(Male 72.43%, Female  54.28%)

4.

No of Sub Division

2 (Balurghat Sadar, Gangarampur)

5.

No of Blocks

8

6.

Address Of District Office

Zila Parishad Complex,
P.O.-Balurghat.
Dakshin Dinajpur,

 

Contact No:.03522 253502/8335060765

7.

District Setup of KVIB

Started In 1986
Performance
1.Pre-C.B.C. Programme 

a.No.  of unit 4381
b.Amount Invested Rs. 247.59 lakhs
c.No.  of Employment 8279

2.C.B.C. Programme 

a. No. of unit. 186
b. Amount Invested Rs. 44.64 lakhs.
c. No. Employment- 1860

3.R.E.G.P. 

a. No. of Unit.  588
b. Amount Invested Rs. 1308.15 Lakhs.
c. M.M. Involved Rs. 392.44 Lakhs
d. No. of Employment 6213


4.P.M.E.G.P. 

a. No. of unit.  98 No.
b. M.M. Amount Involved Rs. 178.58 Lakhs
c. No. of Employment 2188 Nos.
Khadi Institution
| | | | | | |
| --- | --- | --- | --- | --- | --- |
| Sl. No. | Name | Address | Contact Number | Category | Product |
| 1. | Doulatpur Gramin Silk Khadi Samity | Vill. & P.O.- Doulatpur | 9734195294 | C Reco. | Silk |
| 2. | Ithar Thana Khadi & Village Industrial Society | Vill. Lahuchar P.O.-Baragram | 9609724488 | C | Silk |
| 3. | Saira Khadi 'O' Gramin Silpa Sanstha | P.O.-Ramkrishnapur | 9735931427 | C | Silk |
| 4. | Tapan Silk Khadi Samity | P.O.- Tapan | 9002159389 | C | Silk |