RURAL CRAFT HUB
RURAL CRAFT HUB
Handicrafts of Bengal embody our rich heritage of aesthetics, creativity and artistry. In today's globalised world, the growing retail industry, fashion and luxury markets demand for green productions. Besides on the rises its high potential for employment, the craft sector is economically important from the point of low capital investment, high ratio of value addition, and high potential for export and foreign exchange earning for the country. WBKVIB thus aims to unleash the potential of the sector in terms of employment, enterprise, export and growth. WBKVIB is implementing the project with a vision to develop the villages with hundreds of families traditionally skillled in craft traditions like Sitalpati, Madhurkathi, Terracotta, Pathachitra, Dokra, Wooden Mask and Clay Doll making, Kantha as vibrant craft hubs connected to national and international markets.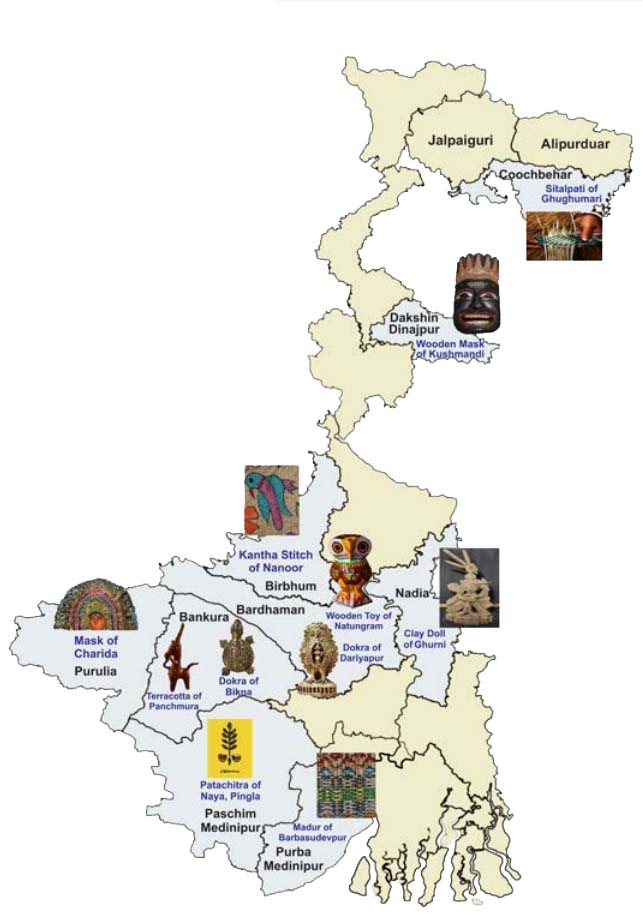 OBJECTIVES OF RURAL CRAFT HUB
Identifying, moblising and building capacity of 3000 artists families in 11 locations of West Bengal, create 10 Rural Craft Hubs and to access global/national market.
The project aimed at developing a vibrant craft sector by converting the traditional craft skills of West Bengal into viable enterprise, thereby ensuring socio-economic development of the rural poor.
To provide hard intervention of the WBKVIB for setting up the RCH projects at different places in West Bengal.
To enable the artisans in accessing market.