THE CHANNELS
MARKETING PROMOTION OF KHADI PRODUCTS & ROLE OF KVIB
THE PROCESS THROUGH WHICH FINISHED PRODUCTS MOVE from the concept to the customer is marketing. It includes developing a demand for the product and fulfilling the customer's needs. The brain of marketing planning is the marketing strategy. The promotion of marketing of Khadi products WBKVIB reaching to the customers through following channels:-
Transfer the ownership of Khadi product from the point of production to the point of consumption i.e. products get to the end user or the consumer. It is also a well-planned marketing strategy which is being followed.
THE CHANNELS
Producer (Khadi Institution) of KHADI PRODUCT
Transfer of ownership of Khadi Product from the point of Production to the Point of Consumption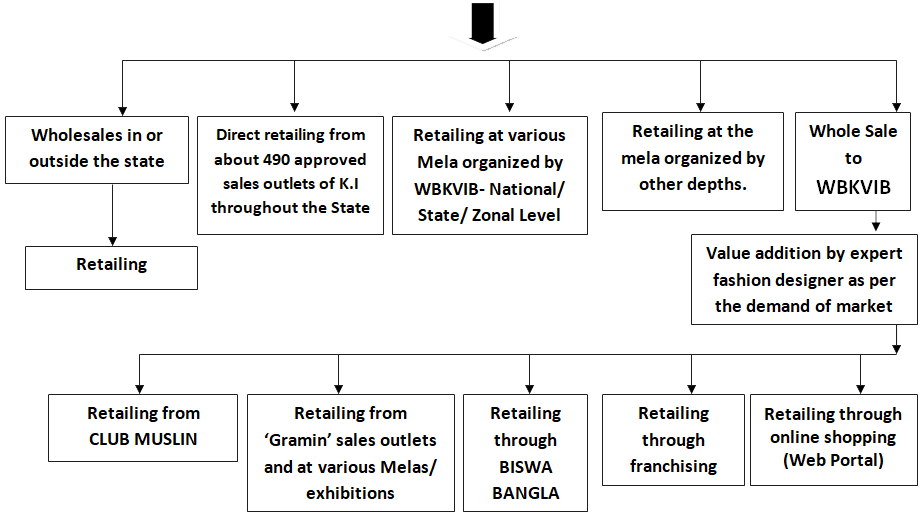 Market is a Prime focus in the process of enhancing livelihood support to the Khadi & Village Industries artisans of rural communities as it builds a healthy supply and demand situation. WBKVIB has been concentrated on market because volumes turned around in a market determine the amount of support, we can support to the rural communities for employment.
Manufacturing a product is important but equally important is whether the said product is reaching its user or not. Therefore one needs to take his product to the market. In other words, one need to have access to the market is it so easy?
The answer is 'not that easy'.
Big companies can spend millions and millions of rupees to ensure better access to the market, but what about small Khadi Societies to sell their product or the product of Village Industries entrepreneur or the product of Cluster's who have very very limited resources. Certainly it is a difficult task for them to take their product to the market where they have to face not just domestic but also foreign manufacturers, so is there any way out?

Here comes the name of WBKVIB who has been providing substance and support to the above sectors in all respect especially in the field of Marketing. In the near future these sectors can be the backbone for the existing and future high growth business with both domestic and international market.
It involves showcasing the Board in a positive light, showing why customers should purchase Khadi & Village industries products products and drawing in a targeted audience to consider goods and service.
The handicraft sector plays a significant and important role in the country's economy. Craft-persons in rural and semi-urban areas and generate substantial foreign exchange.
Keeping the above in view, the vast potential of Khadi and Village Industries Products including handicrafts sectors to usher in a process of inclusive growth in the country which can strengthen the foundation of rapid economic growth and ensure participation of a vast majority in the development process. The WBKVIB is taking all necessary steps to ensure a viable and conductive ambiance for development of the above sector.
Marketing Support to Handicraft cluster units and groups are being provided by WBKVIB by co-coordinating their participation in different exhibition and fairs organized by KVIB or various Govt. Depts.
WBKVIB HAS EXERTED ENORMOUS EFFORT AND SEVERAL INITIATIVES TO STRENGTHEN THE MARKETING ACTIVITIES WHICH WILL CERTAINLY ENHANCE THE SALES TARGET OF THE ABOVE SECTORS.