Artisan Map: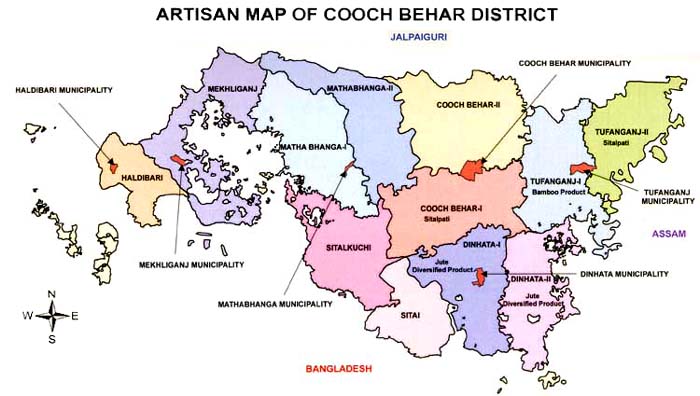 Background:
The state of Coochbehar merged with the Indian Union on 12th September 1949 and came to be recognised as a separate district of West Bengal from 1st January, 1950.
Among the kings of Coochbehar king Naranarayan (1533-87) was the best.He established a big kingdom by fighting many wars.He reconstructed the Kamakhya Temple and constructed the temple of Hayagriba Madhab.He introduced Durga Puja (Bara Devi).Baishnab guru Sankardev permanently settled in Madhupur Dham and died there. King Rup Narayan (17Q4-14) built a beautiful temple of Madan Mohan and installed a beautiful idol of Madan Mohan inside the temple.
The man who was the founder of modern Coochbehar was King Nripendra Narayan (1863-1911) .He was interested in the total development of the country by modern scientific means. The Coochbehar town was built in 1903 according to his plan.The roads are straight ,parallel,wide.
During his time High Court,Judges court,Tresury,Police Office Office of the District Magistrate Landsdown Hall Office of the SDO all beautiful buildings were built on all sides of the SagarDighiin front of the Madan Mohan temple. From 1917 Rash Mela is being held on the Rash Mela Ground every year and it is a time of great festivity.
King Nripendra Narayan built the present big palace to the south of the old palace with the help of Col.Hotton and the commissioners.The palace is similar to the Buckingham Place of England and is a combination of Italian architecture of Rome, Venice and Florence.
Basic Information
1.

Area

3387 sq. kms(As per Census 2011)

 

 

 

 

 

2.

Population

2,822,780

(Male 14,53,590; Female 13,69,190)

3.

Literacy Rate

66.30 %

(Male 75.93%, Female 56.12%)

4.

No of Sub Division

5

5.

No of Blocks

12

6.

Address Of District Office

Nripendranarayan Road,




Udichhi Building,




N.N. Road,




P.O. Coochbehar.





Contact No:. 03582 223091/ 8335060768

7.

District Setup of KVIB

Started In 1986
Performance:
1.Pre-C.B.C. Programme(1985 to 1995) 

a.No.  of unit 2845
b.Amount Invested Rs. 55.8 lakhs


2.C.B.C. Programme (1995 to 1999) 

a. No. of unit. 518
b. Amount Invested Rs. 42.43  lakhs.
c. No. Employment- 4213

3.R.E.G.P.(2002 to 2008) 

a. No. of Unit.  406
b. Amount Invested Rs. 448.43 Lakhs.
c. No. of Employment 7208


4.P.M.E.G.P.(2008 to 2011) 

a. No. of unit.  276 No.
b. M.M. Amount Involved Rs. 349.79 Lakhs
c. No. of Employment 2696 Nos.)