Holding Budget discussions and finalizing the Target of the Institutions/ Societies in respect of Production, Retail Sale, Whole Sale, employment & infrastructures.

Assessment of requirement of fund for running the Khadi activities of the Institutions/ Societies as per KVIC's norms.

Implementing Interest Subsidy Bank Finance Scheme ISEC- a) Issuance of Interest Subsidy Eligibility ertificate in favour of Institutions/ Societies for getting Bank Finance, b) Placement of Fund towards Interest Subsidy.

Monitoring performance of Khadi Institutions/ Societies in respect of Production/ Sale/ Employment.

Implementing Modified Marketing Development Assistance Scheme (in place of previously MDA scheme) for the benefit of Khadi Institutions/ Societies and artisans by making payment of State Govt. Grant @ 15% on the Prime Cost of production as per norm out of Plan fund allotted by the State Government.

Implementing Khadi Programme through Board's Direct Production Centres.

Monitoring of Artisan Welfare Fund Trust.

Monitoring Aam Aadmi Bima Yojana.

Evaluation of performance of Khadi Industries/ Societies as per KVIC's norms.

Implementation of Ready to use- Khadi Mission Schemes.

Implementation of Product Development and Design Intervention and Packaging (PRODIP) for Khadi Institutions/ Societies.

Implementation of Science & Technology Scheme under Khadi.

Implementation Scheme of Fund for Re- generation of Traditional Industries (SFURTI) scheme.

Assistance in marketing of Khadi Products. 
The West Bengal Khadi & Village Industries Board is an organization at the state level, who spin employment and weave prosperity in the state of West Bengal. The principal administrative officer of the Board is the Chief Executive Officer (CEO) appointed by the Govt. of West Bengal.
There are totally 18 District Offices, 160 registered Khadi Institution and 14 Direct Production units, 2 nos. centre of excellence 18 sales outlets(Board's Approved) in the state as on June, 2019.

A. Infrastructure:
Through study it appears that there is big gap between the spinners in the profession and the number of charkhas in existence and the same in case of weavers in profession and the number of loom in existence. Consequently they either become jobless or depend on others' charkha & loom for their livelihood and eventually exposed to misery and exploitation.
To bridge this gap and to empower the above poor and marginalized artisans charkhas & looms are being distributed and the picture of which is given below:-
To bridge this gap and to empower the above poor and marginalized artisans charkhas & looms are being distributed and the picture of which is given below:-As on 31/01/2018 
| | | | |
| --- | --- | --- | --- |
| SL No. | District | No. of Charkhas | No. of Looms |
| 1 | Paschim Medinipur |  15 |  50 |
| 2 | Purulia |  20 |  112 |
| 3 | Nadia | 78  |  54 |
| 4 | Murshidabad |  397 |  1094 |
| 5 | Malda |  215 |  317 |
| 6 | Howrah |  99 |  164 |
| 7 | Purba Medinipur |  30 | 10  |
| 8 | Hooghly |  75 |  - |
| 9 | Burdwan |  104 |  148 |
| 10 | Birbhum |  182 |  771 |
| 11 | Bankura |  35 |  297 |
| 12 | 24- Parganas (N) |  75 |  18 |
| 13 | 24- Parganas (S) |  30 |  - |
| 14 | Head Quarter |  2 |  - |
|   | Total |  1357 |  3035 |
Construction of Khadi workshed
A growing need has been felt to facilitate and empower khadi artisans to chart out a sustainable path for growth, income generation and better work environment. The Workshed Scheme for Khadi Artisans (WSKA) is an attempt to facilitate the development of khadi spinners and weavers by way of providing them financial assistance for construction of worksheds, on a pilot basis.
Opening of New Direct Production Centre
At the early stage between 1970-1975 Board had set up 3 Production Centres (spinning) where all spinners were refugees from East Pakisthan and they were very distressed women. Out of the above 2 were in North 24 Parganas and 1 in South 24 Pgs. Apart from that there was also 1 weaving Centre at Bajkul, Purba Medinipur which got defunct in course of time.
Above 3 Spinning Centers had to face problem in respect of utilization of the finished cotton, as the centers were lacking of proper stores and for that finished cotton got damaged and spoilt. This situation continued up to 2012-13.
In 2013-14 Govt. of W.B sanctioned a project of 32.02 lakhs for restructuring of the above 3 units and got reconstructed with the provision of store, washroom, restroom etc.
Following the above, a comprehensive study was conducted through the Khadi Section of the Board headed by C.O(Khadi) for the possibilities of setting up of a Board's direct production unit who gave a patient hearing to the people of some of the villages.
In the block Udaynarayanpur at Pancharul G.P area some weavers and social workers showed their willingness for setting up a Khadi Production Unit. It was also revealed that there was a high possibilities of setting up of a khadi production centre. Near about 5000 weavers family are changed in the trade of hand loom sector through "Mahajan" system since a long time.
In the year, from 2015-16 WBKVIB took a venture of opening Spinning Centers as Satelite unit. 4 such unit in North 24 Parganas 2 no. in South 24 Parganas got established. Later on to cope up with the more demand of yarn 2 spinning units & 2 weaving units opened at Howrah and at Purulia 1 no. of spinning unit at the existing premises of above stated weaving centers, thus total Direct Production unit comes to 14 nos.
In 2014 WBKVIB set up two new spinning & weaving centers at Udaynarayanpur & Gaza, Howrah following a study conducted by the WBKVIB. All artisans were more or less previously attached with the Handloom Industry and either got retrenched or left that Industry due to very low wages and were sitting Idle or engaged themselves in agricultural work. After that, above 2 Centers have been utilizing the above finished cotton as raw materials.
Restructuring of Cotton Khadi activities utilized and covered under three centres with a project cost of Rs. 32.02 Lakhs(Fund State Plan)
New Model Charkha Centre, Ashokenagar, P.O. Haripur, Dist- North 24 Parganas.
Rajkote Charkha Centre, Banamalipur, P.O. Barasat, Dist- North 24 Parganas
New Model Charkha Centre, Chetla, 19,B Chetlahat Road, Kolkata- 700 027
 B. Skill Development & Technology upgradation of Human Resources
Background: Till 2015 the Spinners  & Weavers were followed the traditional method of dyeing and for this they could not enter the market.
In order to become a preferred artisan we need to adopt best practice and follow standards to go forward not just offering innovative solution but offer greater value to their work. It is in this context that technological sophistication has become immensely important.
Against the background of the above there is a need for introducing new skilling & technical support towards Dying process and modernization of existing Vat dyeing process to modern dyeing process.
Soft skill training such as ability to work in a group, language skill, operational skill are integral to development. WBKVIB provides training to aspirant artisans to be successful in the performance. Besides the need to create a skillful work force in the near future, the Board has also a programme to address the issue of ability sustain training programme.
It was revealed from the interaction had with the artisans of Khadi institutions during the physical verification of the marketing status of the Khadi product that artisans of cotton and silk Khadi fabric are not acquainted with the modern dying techniques(They only followed the old method i.e. vat dyeing). Weavers were compelled to engage themselves only in plain fabric manufacturing -"white than" . For this reason they failed to enter into the foreign market and  even in domestic market as they did not have any concept of modern technology & fashion.
Since the societies used to produce Khadi items using older technology the cost became compatibly higher. This plenemon affected the market badly. To reduce the production cost, WBKVIB has taken various steps like use of deactive dye in place of Vat – Dye, using modern device etc. 
Following the above , WBKVIB authority took up the issue and has had a discussion with the representative of Calcutta university (Department of Jute & Fiber), reader. Later on recognizing the skilling need of the artisan, WBKVIB has entered into a MOU with the Deptt. of Jute and Fiber Technology, University of Calcutta is dealing with the technological upgradation of Cotton & Silk producing artisans. For about last five years ,the WBKVIB has been endeavouring training which ensures employment of the artisans.  Dyeing process practiced by the artisans has been upgraded in the following line:
Dyeing process has been carried out with appropriate reactive class of dye and natural dyes. Muslin yarns will also be strengthened by applying polyvinyl alcohol (It is widely used to strengthen fabric yarn and is resilient to oils and grease). 
Cotton fabric has been given wrinkle recovery finish (The property of a fabric which enables it to recover from folding deformation is called as Wrinkle recovery finish) with the help of modern technology and will be given fragrance finish and antibacterial finish following environment-friendly route. Artisans chiefly dealing with the muslin fabrics are being trained by holding workshops at the places specified by the Board from the time to time in the state of West Bengal.
Finally the authority took up the task of upgrading the artisan and such training was held at 24 no. venues in the various districts of West Bengal. The artisans of Board's own production center at Udaynarayanpur and Gaza weaving center in the district of Howrah as well as Mohandhi Khadi Centre in Purulia district are also getting trained.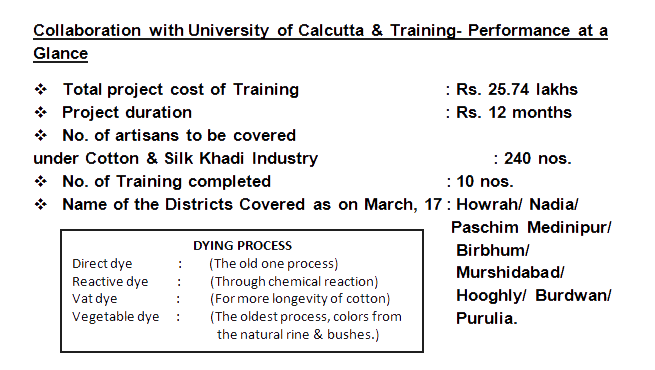 C. Production:
Working capital support through ISEC (Interest Subsidy Eligibility Certificate)
Govt. of India introduced the interest Subsidy Eligibility Certificate Scheme long before to help Khadi and Polyvastra producing instructions in mobilizing the capital funds from banking institutions. Under the scheme, implementing agencies can avail of bank loan as per the ISEC issued by the KVIC as well as KVIB on payment of only 4 percent of interest and difference between the actual interest charged by the bank and 4 percent is borne by KVIC as interest subsidy
On the strength of the "Interest Subsidy Eligibility Certificate" issued by KVIC the institutions etc. negotiates with their bankers for the required financial accommodation (W.C only)
The difference between the actual rate of interest charged by the bank minus 4% (to be borne by the borrower). [e.g. if Bank interest is 13%, then (13-4)=9% is subsidy i.e. ISEC]
The picture of benefitted Khadi societies comes to-  a) KVIB->154 nos., b) KVIC->120 nos., c) Fund involved 5915.68 Lakhs
Government of India introduced the scheme of Market Development Assistance (MDA) on Production in place of rebate.
The scheme has been given effect from 1st April 2010, to help Khadi institutions to reorient their activities extending adequate emphasis towards increasing artisans' earning as well as ensuring quality of Khadi to customers.
Status of MDA disbursement as on 13.06.19 
| | | | |
| --- | --- | --- | --- |
| Sl No. | Fold | Year | Institution |
| 1 | KVIB | 2014-15 | 139 |
| 2 | KVIC | 2014-15 | 98 |
The existing MDA Scheme has been modified and termed as MODIFIED MDA (MMDA) w.e.f – 2017-18. The MMDA shall be calculated @15% on Prime Cost shall be include cost of raw materials plus conversation charges up to grey cloth plus processing charges without margin, as specified in cost chart. It does not include establishment margin, trade margin, insurance & bank interest.
Introduction of cash awards to Khadi artisans create inspiration and enthusiasm among them for more work as well as pay honour & recognition to them.
D. Quality Control & Design:
It has become mandatory for all the Khadi Producing Institutions to get registered for "Khadi Mark" certificate for genuineness of Khadi. The Khadi Institutions who have obtained the "KHADI MARK" Certificate shall only be considered for enlistment under Govt. supply.
Board has set up a testing laboratory for testing of Khadi fabric and standardization of the parameters which is an ultramodern lab manned by qualified personal to ensure maintenance of quality to meet the stringent standard. We may test both physical and chemical properties of the yarn and fabric
E. Social Safety of Khadi Artisans:
Artisan Welfare Fund Trust (AWFT)
Depositing of Artisan Welfare Fund into the State Level Artisan Welfare and Pension Trust (AWFT) by Khadi Institutions is a pre-requisite for settlement of MDA claims. In fact as available in the balance sheet the AWF is to be deposited to the State level Trust completely by each and every Khadi Institutions. The status of the AWF vis-à-vis depositing the same to Artisan Welfare Fund and Pension Trust should find a place in the record note of the institution. This is  With a view to extending security and other help to artisan.
Khadi institution are required to contribute 12% of wages of artisan to AWFT whose benefit is extended to all artisans. Separate accounts in respect of each artisan showing their subscription mode by him/her together with the contribution mode by the institution are maintained each artisan subscribing this fund is issued a pass book by the Khadi institution in case of death of the artisan, the entire amount to his/her credit in AWFT is paid to his/her legal heirs or nominees.
Aam Aadmi Bima Yojana (AABY)
This scheme, like other Group Insurance Schemes, does not have any terminal benefit for the beneficiaries as this is not a Life Insurance Scheme. The scheme provides only risk cover for death/ disability and the worker is not entitled to get any returns on the premium paid by him or paid on his behalf by KVIC/ Khadi institution, if he survives the entire period of insurance.
Benefits:
The Shiksha Sahayog Yojana is add-on coverage under JBY, without any additional     premium. The wards of the khadi artisans (benefit restricted to two children per member/family) covered under the JBY are entitled to receive upto Rs. 1200 per annum per ward towards tuition fee.
Amount of Premium:-The premium payable has been fixed at @Rs. 1OO/-. 
| | | |
| --- | --- | --- |
| a. | The contribution from social fund (Govt. of India): | Rs. 50.00 |
| b. | Institutions contribution: | Rs. 25.00 |
| c. | KVIC: | Rs. 12.50 |
| d. | Artisan: | Rs. 12.50 |