SAL SABAI CENTRE OF EXCELLENCE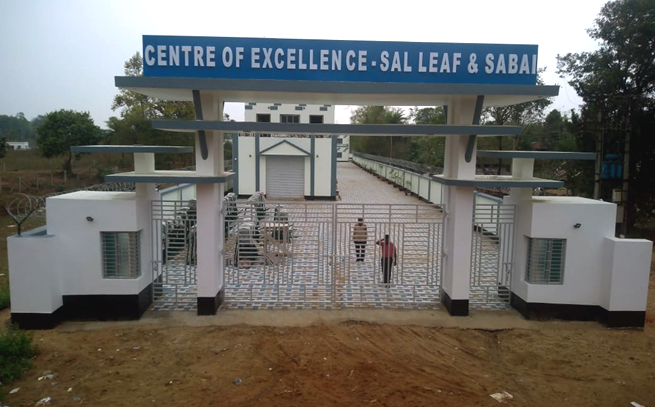 MAIN ENTRANCE OF "SAL-SABAI CENTRE OF EXCELLENCE" AT JHARGRAM FOCUSED ON LIVELIHOOD PROMOTION OF  TRIBAL RURAL WOMEN WIDELY SPREAD IN MANY AREAS OF JUNGLEMAHAL 
Centre of Excellence
A Centre of Excellence is a team, a shared facility or an entity that provides leadership, best practices research, support and training for a focus area. The Centre of Excellence (Sal-Sabai) at Jhargram set up under Cluster Development Programme is one of its unique initiatives of the West Bengal Khadi & Village Industries Board with a view to eliminate the distress sale experienced by the local rural women and to develop a production cum training and research centre with provision for production room , store, guest room, conference hall and a museum with a laboratory for product diversification of various crafts product. This is with a view empower the Sal-Sabai artisans by using their expertise and through it, to empower them, that the Board has taken up the Project.
MISSION & VISION OF  THE CENTRE OF EXCELLENCE AT JHARGRAM (Sal-Sabai)
M  I  S  S  I  O  N

V  I  S  I  O  N

To provide training to the Sal Sabai artisans so that they can manufacture diversified product within a very short time.
To increase awareness among the tribal artisans to increase economics of scale and marketing power.
To increase efficiency and sustainability and to adopt and improve technology.
To impart lessons on marketing of the Sal-Sabai Products.

To be the leading resource and      knowledge centre of Jungle Mohal.
To revolutionize Jungle Mohal with demand driven and inspiring Sal-Sabai Product and knowledge service to realize next level of diversified Products.
To make the Centre of Excellence to be the first of its kind in the country.
An overall MOU was signed between the West Bengal Khadi & Village Industries Board and the facility provider ARANNYA SUNDARI of Jhargram where work plans were defined. In these work plans WBKVIB and ARANNYA SUNDARI agreed to make available knowledge, technology, research and development work.
The concept of this Centre of Excellence is a showcase and knowledge repository of the best-in-class in West Bengal in manufacturing of Sal-Sabai diversified products with Sal leaves and Sabai grass by dint of necessary training and to make artisans access to market.
SAL  LEAF :-
Sal leaves are abundantly grown in the forest areas. Dealing with such Sal leaves is the main livelihood activity of Tribal women. Collection of green Sal leaves from nearby Jungle, get it semi dried in the courtyard and, make the improvised THALI & other Utensil by stitching it with the help of neem stick and sale it in the local market at a Rupees 8-10 per hundred only – this is the traditional economical activity of tribal women of Jungle Mohal area. The local agents or 'Farias' do collect the above improvised Sal Thali from the poor artisans do sell their product after few value addition to the local market at much higher rate. WBKVIB intervene this area. The purpose of the centre of excellence is to stop distress sale by the rural women artisan and to purchase of the same @Rs.70/- per 100 plates where artisans have the option also to sell the same for sale to outsider at a high price.
SABAI:-
The usage of Sabai Grass were discovered by the Englishmen during British rule in India. As a raw material SABAI GRASS is excellent for many hand weaving craft. The most important use of this grass is making ropes for domestic purpose. Sabai grass products are eco-friendly in nature as such the diversified products, mainly fancy and decorative items, offer good prospects. In case of later the dyes to be used in coloring must be of natural origin. Semi dry sabai ropes are prepared indigenously mostly by the tribal people. Livelihood uplift of concerned artisans with necessary imputes in the form of soft  & hard intervention already made available under Cluster Development Project. Now WBKVIB markets the sabai products after some value addition as per the demand of the market.
THE INFRASTRUCTURE:-
Infrastructure is the most important resource of the Centre of Excellence.
Molding Machine- 20 nos. Sewing Machine- 20 nos. & sabai rope making machines.
Store house of various spare part of necessary machines.
Sufficient electricity arrangement.
Training space and arrangements of sal & sabai storage.
Office room, conference hall, guest room, dormitory.
Canteen, Godown, Production unit, Reception.
Museum with showcase of intricate handicrafts of the artisans.
24 x 7 security arrangements.
Sufficient computers with necessary arrangement.
Women working at Centre of Excellence

 

The outside of entire building of the sal - sabai Centre of Excellence, Jhargram
THE MANDATE:-
Conducting training of the concerned tribal artisans and skills in modern technology.
Improving Jungle Mahal's economy.
Extension activities and production of eco-friendly products (Sal & Sabai) are taken up by the KVIB.
Capacity building among stake holder.
Participatory approaches in Planning, Implementation Executing.
THE FOCUS AREA: Technology, Skill business concept, research support to tribal artisans.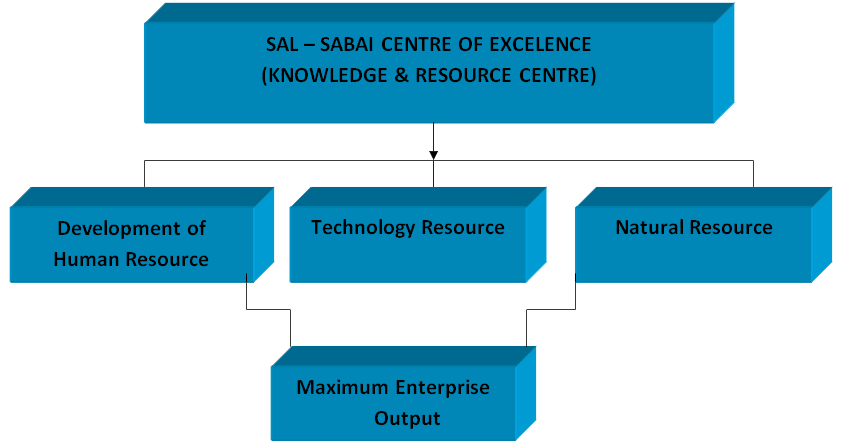 | | |
| --- | --- |
| Sabai Grass product | Sal Leaf Product |