PROJECT MUSLIN




MSME&T Deptt., Govt. of W.B. through its WBKVIB has taken up the 'Project Muslin", where WBKVIB has been assigned the task of exploring the possibilities and potentials for reviving the old glory of heritage MUSLIN CRAFT, the pride of Bengal in one hand and overall livelihood development through a holistic approach of the stake holders on the other.
Background of Project Muslin :
Under British rule, the British East India company could not compete with local muslin with their own export of cloth to the Indian subcontinent.
Though Gandhiji believed Khadi can play a vital role in the economic growth of the nation the Bengali muslin industry was suppressed by various colonial policies. As a result, the quality of muslin suffered and the finesse of the cloth was lost.
There have been a few attempts at reviving the muslin industry even after independence. In the present day, many different types of muslins are produced in many different places.
It surfaced that those who were attached with Muslin compelled to shift to the other profession as they could not get benefits they were entitled to. Due to lack of storage and lack of proper marketing and it has become a seasonal occupation. They were in despair, the hands that could weave dreams, that could create beauty were becoming listeners. The Youth were either not learning or unlearning the teaching of their forefather. Some of them became agricultural workers, some of them started pulling rickshaw. The West Bengal Khadi & Village Industries Board has rightly seized of the opportunity and has given utmost importance to intervene in the following areas.
 1. Skilling/Training : It is an important Policy Priority for Bengal Muslin.
 2. Infrastructural Support.
 3. Quality Control.
A revival package for superfine cotton-thread has been taken up under 'PROJECT MUSLIN' by the Department of Micro, Small and Medium Enterprises and Textiles, Government of West Bengal. Its primary objective is to revive the muslin industry and ensure that the artisans get remunerative returns and appreciation for their unique skills. WBKVIB was entrusted to implement the project.
It was indeed an honour for  the WBKVIB made a MOU with Kolkata Craft Combine Society for soft intervention to the Muslin artisans.
1. Skilling/Training :
WBKVIB's policy intervention have translated into concrete programmes of action which addressed four major skill challenges – scale, quality, employability and aspirations and several interventions have been introduced in both short term and long term.
Upskilling and reskilling a key component of the skill ecosystem.
WBKVIB had been imparting skill training across the state through Privet Partners.
Skilling is destined to become a great success in coming years and widen the opertunities for women in big way added to this is the need to diversify Products of Khadi Muslin.
Start ups showed that there were huge prospects ahead and little more encouragement and support from the KVIB would bring out the desired result.
Training Projects were allocated to those trainers who can train properly so that weavers can change themselves with the changing time. This is a perfect case study as to how all concerns can join hands.
Skilling had been receiving focused attention. Skilling helps to familiarize the artisan with latest technology and design and help to upgrade the product to the Global standard with better dyeing process and weaving techniques.
The artisans were mostly poor exposure to new technologies. Series of efforts had been taken to redress this problems and the sector is now witnessing good growth in terms of product developments.
Sl No.

 

 

 

NAME OF THE DISTRICT

 

 

TRAINING ON

SPINNING

WEAVING & DESIGNING

DYING & PRINTING
PRE LOOM

1

MURSHIDABAD

19

04

02

01

2

MALDA

12

0

0

0

3

BURDWAN

08

01

01

0

4

BIRBHUM

12

03

01

01

5

NADIA

08

02

02
0

6

PASCHIM MEDINIPUR

01
01
01
0

7

BANKURA

04
02
01
0

8

HOWRAH

04
04
0
02
9

HOOGLY

06
01
0
01
10

24TH PGS (N)

01
0
0
0

TOTAL

75
18
08
05
Training of high count Muslin (400s – 600s and above)
Matiary Kutir Shilpa Pratisthan at Nawadwip is the facilitating agency which runs the training center under WBKVIB for creating Muslin fabric of 500 count and plans to take up the challenge of producing fabric as fine as 600 counts. There are approximately 60 women that work in the
unit and they plan to extend it to more women of the area and make it a complete unit handled exclusively by women. 

Training of Muslin(High count) at Matiary Kutir Shilpa Pratisthan,Nabadwip,Nadia
MODERNIZATION OF PRE-LOOM/WEAVING PREPARATORY SECTION FOR KHADI SECTOR
West Bengal Khadi & Village Industries Board had taken a project of "Pre-Loom/Weaving Preparatory Section" in the arena of Khadi Sector in association with Govt. College of Engineering & Textile Technology, Serampore.
 1. Preparatory process is the backbone of weaving performance i.e. quality and production. In Khadi, the primitive process is laborious and time consuming. As a result the suitable process is to be developed for preparatory section of Khadi Industry is utmost essential.
2. The aim of this project is to enhance the quality of Khadi fabric and also to resolve the problem associated with Khadi Weavers and Khadi Weaver's family by adoption of appropriate technology with the modification and mechanisation of Yarn preparation process which will reduce the work load and time of Weavers and thereby to resolve the social problem associated with the Khadi Weavers and Khadi Weaver's family.
3. Hence, the aim of this project is to improve the Khadi preparatory process by (i) Method of wetting of yarn prior to sizing (ii) Modification of sizing paste preparation (iii) Elimination of step by modification of sizing recipe (iv) Improvement of knotting technique (v) Introducing of sectional warping over peg warping and (vi) Mechanised winding process.
AT A GLANCE (Outcome of the Project)
Sl. No.
Section
Previous
Now
Outcome
1.
Yarn Wetting Process
Process time:4-5 days

Process time: less than

1 days

Loom waiting time reduces by minimum

of 3 days

2.
Sizing Paste Preparation
Rice Dust Paste
Latai making is Eliminated

New recipe for enhances the quality

and productivity

3.
Latai Making Process after Sizing

1. Making of Latai

(Cage Winding)

from wet sized yarn

2.Drying of yarn in overlapped condition drying is time consuming

1.Yarns are dried in more open form

2.Drying time is reduced

3.Drying can be done in house.

Elimination of tedious process reduces

the loom waiting time
 

Making of লাটাই from wet sized yarn causes entanglement.

 

 Use of rice based starch for sizing causes damage to yarn on storage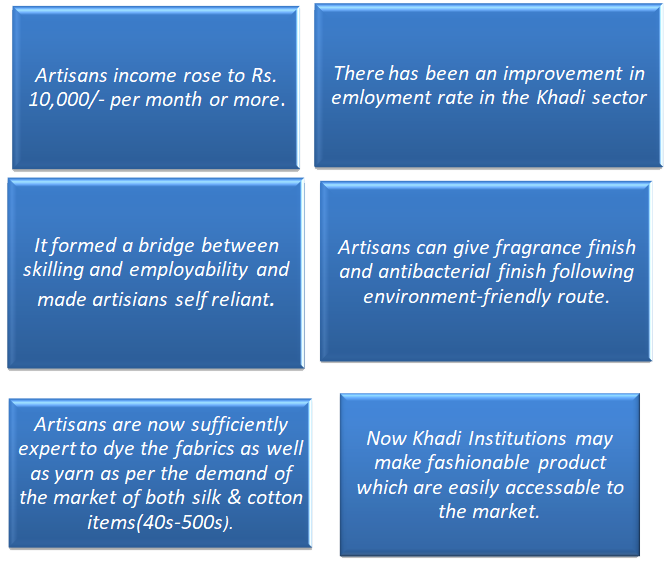 Infrastructural Support
I. An infrastructure – Comprising Physical Infra, technology and innovation support. WBKVIB is on spree of revival of the glory MUSLIN KHADI, at the grass root level and in the past years 4633 nos. appropriate CHARKHAS and 4580 nos. advanced looms were supplied to the selected Muslin artisans who possess enough potential and possibilities. These units can be on the way to becoming the piller of growth. Availibilities of infrastructure means access to latest technology.
SL NO.
District
No. of Charkha
No. of loom supplied

1.

Paschim Medinipur
15
250

2.

Purulia
52
86

3.

Nadia
283
64

4.

Murshidabad
1606
1282

5.

Malda
1228
785

6.

Howrah
244
168

7.

Purba Medinipur
30
10

8.

Hooghly
110
24

9.

Burdwan
339
124

10.

Birbhum
378
729

11.

Bankura
70
769

12.

Darjeeling
1
240

13.

24 Parganas (N)
183
38

14.

24 Parganas (S)
77
0

15.

Head Quarter
2
0

16.

KCCS (Facilitator)
15
11

TOTAL

4633
4580
II.The possibilities and potential for job creation and weath formation are immence in the Khadi Sector and to provide gainful employment at the doorsteps of the rural un-employed, especially youth and women. Women's emancipation and empowerment at the core of all development activities of WBKVIB. Within good infrastructural facilities the building of CPC is an important and so far 496 nos. CPC have been completed and 96 nos. will be completed soon for the place of working Muslin Artisans.
STATEMENT FOR WORKSHED SCHEME
SL NO
District
No of Proposal Received
No. of Proposal approved
No of Proposal Accepted
No. of Proposal under process
No. of Proposal rejected
No. of artisan deposited own contribution
Fund  disbursed for no. of cases
Fund to be disbursed for no. of cases
Fund disbursed (Rs.)

1.

HOOGHLY
3
0
1
0
2
0
0
0
0

2.

NADIA
3
0
0
3
0
0
0
0
0

3.

BIRBHUM
256
172
0
0
84
167
86
81
9674265/-

4.

MURSHIDABAD
279
278
1
0
0
278
278
0
31272645/-
5.

BANKURA

24
23
0
0
1
12
12
11
1349897/-
6.

PURULIA

53
41
0
0
12
39
38
1
4274675/-
7.

HOWRAH

13
13
0
0
0
13
13
0
1462396/-
8.

PURBA BURDWAN

28
26
0
0
2
19
19
3
2087482/-

TOTAL 

659
553
2
3
101
528
446
96
50121360/-
It is an attempt to facilitate the development of Khadi spinners and weavers essentially belonging to BPL category by providing them financial assistance for construction of worksheds, on pilot basis.
Financial Assistance for construction of workshed will be provided to those Khadi Artisans who belong to BPL category through the Khadi institutions with which these khadi artisans are associated.
Quality Control :
Quality Control is a set of steps or guidelines designed to guarantee that a product (Khadi Fabric) meets certain performance standards and customer expectation. The above is generally measured by various production components or a set of steps or guidelines       
Selection of raw materials.
Fiber manufacturing.
Yarn manufacturing.
Fabric construction.
Dye and coloration.
Printing & design

 
The entire components and tested at Board's in house testing laborotary by the experienced textile engineers before receiving any such fabrics which is in brief :
Yarn testing :

yarn occupies the intermediate position in the manufacture of fabric from raw materials. Yarn results are therefore essential, both for estimating the quality of raw material and controlling the quality of fabric produced.

Sampling :

the sampling must be true and representative of the Bulk lot.

Ambient condition for yarn testing :

Elongation, yarn evenness, imperfections, count etc. temperature 20+ 2 degree centigrade.
Raw materials of Muslin Khadi Fabric

A Khadi Institution (may be either the fold of KVIB or KVIC) Producing Muslin Khadi can only develop higher performance and sustainable profit ability if the quality standard are maintained (in sync) to the global standard. It also enhance competitiveness in Muslin Khadi Industry.

The programme aims to develop global competitiveness among Bengal's Muslin Khadi Producers by improving the process design techn ology and market access. It also aims at value – added cost effective solution.

Muslin Khadi is already repositioning on the Khadi Map.
Board has set up a physical testing of cotton yarn and fabrics, chemical testing of cotton fabrics testing laboratory and also for the standardization of the parameters which is an ultramodern lab manned by qualified personal to ensure maintenance of quality to meet the stringent standard. We may test both physical and chemical properties of the yarn and fabric. (ISO certificate obtained and furnished below).