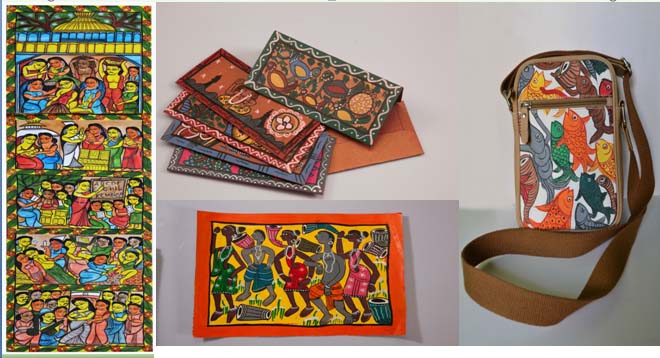 Patachitra and Pater Gaan are unique cultural traditions of Bengal. The patuas paint stories on long scrolls of cloth. The most unique thing is that all the colour used by the artists are the natural ones, extracted from different vegetables, fruits and flowers. Social themes like protection of environment, planting of trees etc have also placed in their creation. The village is home to around 250 Patuas, a unique tribe of folk artists who are painters, lyricists, singers and performers all in one. The artists have organized themselves under chitratare cluster.
POT Maya is an annual festival held at Naya, Pingla -a hub of scroll painters of Bengal, called Patuas. Patachitra, an age old tradition of the Patuas, is aunique form where oral tradition meets the visual structures of a narrative. The painters today have painted their path to glory drawing audience both national and international to their now famed dwelling. The Department of MSME&T, Govt of West Bengal in association with UNESCO has taken an initiative of developing this place as Rural Craft Hub, to be managedby the Patuas.
WBKVIB has assigned by Govt. of W.B, for taking up the hard intervention part e.g. construction of common facility centre, providing working capital and so on and soft intervention part has been taken up by UNESCO through its local partner BanglaNatok Dot com.

Route Direction:  
By Car: 1 30 kms from Korkata. Reach Debra along NH 6 and take left turn to Balichak. From Balichak move towards Mundomari crossing and then take left to reach Naya, Pingla.
By Train: Take a train to Balichak from Howrah. From Balichak take a bus or a car to Naya, Pingla. Before boarding the local from Howrah please check whether train stops at Balichak.